Federal gov't seeks to enhance OHS law, including violence and harassment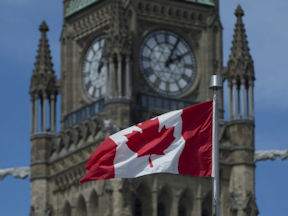 The federal government has introduced legislation aimed at preventing workplace violence and harassment and expanding health and safety protections to parliamentary workers.

Worker representatives and others have, for years, called on the federal government for comprehensive legislation requiring employers to develop policies and programs to help prevent all forms of workplace violence and harassment. At present, federally-regulated employers need only have a policy in place and no legal obligation in health and safety law to address complaints.

"Workplace violence and harassment has reached epidemic proportions and is having very real consequences for the day-to-day lives and mental health of workers across the country," said Hassan Yussuff, president, Canadian Labour Congress. "We are pleased to see the government addressing some of the gaps and inconsistencies in current legislation meant to address this issue."
New employer obligations
If adopted, Bill C-65, An Act to amend the Canada Labour Code (harassment and violence), the Parliamentary Employment and Staff Relations Act and the Budget Implementation Act, 2017, No. 1, would impose new obligations on employers in federally-regulated industries relating to the prevention and protection of workers against harassment and violence. The specifics of these new employer obligations will need to be prescribed in regulation.

Employers would also need to comply with new complaint investigation and response measures, offer support to affected workers and follow strict privacy rules. This would include the need to assign a "competent person" to investigate each complaint.
The amendments would allow those unhappy with how their complaint was handled to ask the federal Minister of Employment, Workforce Development and Labour to intervene, investigate and order directions for employers if deemed necessary.

The federal government also announced they will launch a campaign to raise awareness about all aspects of violence and harassment including that of a sexual nature, along with developing resources to assist workplaces with implementation. The government also says they will provide outreach to employees and employers to assist them as they "navigate the workplace prevention and resolution process and to help direct victims to support services."
New obligations to protect parliamentary workers
Workers on Parliament Hill have long been denied basic health and safety protections afforded others in federally-regulated workplaces, a point of contention for workers and their representatives for decades.

Bill C-65 would amend the Parliamentary Employment and Staff Relations Act (PESRA) extending the health and safety obligations outlined in Part II of theCanada Labour Code to parliamentary workplaces such as the Library of Parliament and the House of Commons. This will include the new employer obligation to prevent and protect against violence and harassment.
Ensuring right to participate
The proposed amendments to the Canada Labour Code would also eliminate the right of employers to request an exemption from establishing a workplace health and safety committee. Currently employers are allowed to request an exemption and it will be considered if the work being done by employees is relatively free from risks to health and safety.
Concerns remain
"We are pleased that the labour minister has committed to a stakeholders' working group to develop regulations and guidance documents and hope that many outstanding issues can be addressed there," said Yussuff.

One such issue is the fact the amendments don't mandate repercussions for the offender or remedies for those who experience violence or harassment. Another is a concern over how this new legislation will impact current language in collective agreements or the role of the Canadian Human Rights Commission in addressing complaints.

Considering workplace committees, policy committees and health and safety representatives would not be permitted to participate in investigations, worker representatives also want to clarify whether workers will have the right to representation during the investigation process and whether they can access information related to their complaint.

Another concern is whether or not there will be adequate staff and financial resources allocated to implement the various aspects of these amendments.
Lack of training obligations questioned
Many of the proposed changes for federally-regulated workplaces are in line with the current legislative framework for workplace violence and harassment in Ontario for provincially-regulated employers under the Occupational Health and Safety Act. A significant difference, however, is the fact Bill C-65 fails to mandate training—a concern identified by many who participated in the public consultation prior to the introduction of Bill C-65.

As outlined in the final report of the public consultation, stakeholder and survey respondents identified the need to educate supervisors and employees to raise awareness about harassment and violence. Those consulted also suggested that training and education would help employers to better understand and respondto what is happening in their workplaces.

Training shortcomings also remain a concern here in Ontario. Bill 157, introduced by Ontario New Democratic Party leader, Andrea Horwath, seeks to better define mandatory workplace violence and harassment training to include domestic and sexual violence in the workplace. If passed, the Bill would mandate this training for all managers, supervisors and workers.

Currently, Ontario's Occupational Health and Safety Act requires the employer to provide workers with "information and instruction that is appropriate for the worker on the contents of the employer's workplace violence and workplace harassment policies and programs." Bill 157 has passed second reading and is currently at committee.

Further still, many are asking why the epidemic of violence in certain sectors, including health care and education, isn't recognized as a "high hazard" for purposes of a mandatory worker training standard similar to that developed for working at heights. The Dean Expert Panel review and report into Ontario's occupational health and safety system recommended stakeholder consultations "to determine additional high-hazard activities that should be subject to mandatory training for workers." No such consultations have taken place.
Prevalence of harassment and violence
Sixty per cent of employees surveyed as part of the federal public consultation reported having experienced harassment. Thirty per cent said they had experienced sexual harassment; 21 per cent reported experiencing violence; and three per cent said they had experienced sexual violence. Forty- one per cent said no attempt was made to resolve an incident they reported. For those who've experienced violence or harassment and didn't report the incident, fear of reprisal is often the reason cited for their silence.
WHSC can help
For our part, the Workers Health & Safety Centre (WHSC) offers a range of resources and a three-hour Workplace Violence and Harassment Prevention Training program designed to help workplace parties better understand workplace violence, harassment and bullying and to fully comply with legal obligations focused on prevention.

Want to access WHSC violence and harassment resources and other related information?

WHSC workplace violence resources, including employer and worker checklists
Report establishes blueprint for violence prevention in health care sector
MOL issues code of practice on workplace harassment
Workers' right to harassment-free workplace extends to employer run social media
New Ontario law expands employer duties to address workplace sexual harassment

To learn more:

Visit: www.whsc.on.ca
Email: contactus@whsc.on.ca
Call: 1-888-869-7950 and ask to speak to a WHSC training services representative.